| | |
| --- | --- |
| Since | wet weather kept us out of the streams we spent more time in the lab then we'd have liked. There were several categories of lab activity. |
| | |
| --- | --- |
| | We had collected a number of limpets. These needed to be measured and their length and thickness recorded with the location where they were found. We glued an ID tag to each shell. Since some were just a few millimeters long, this was an "interesting" task. The tags do not harm even the smallest limpets, whose shells continue to grow. Remember these tough little creatures can climb vertical waterfalls. |
Our team and earlier teams had collected a number of biological samples using nets and traps, and from randomly selected rocks pulled from the stream bed. We needed to examine these samples, often using a microscope, counting and cataloging each little animal.
Finally, all this carefully cataloged data had to be entered into a computer database that the scientists will use for their analysis.
Of course, it was just a short walk from the condo to this beach where we often watched the sun set and where we had a going-away picnic dinner. The photo illustrates the rain shadow effect on western Maui seen across Ma'alaea Bay. You can see the clouds on the windward side of the mountain. It's raining at Iao and Waihee.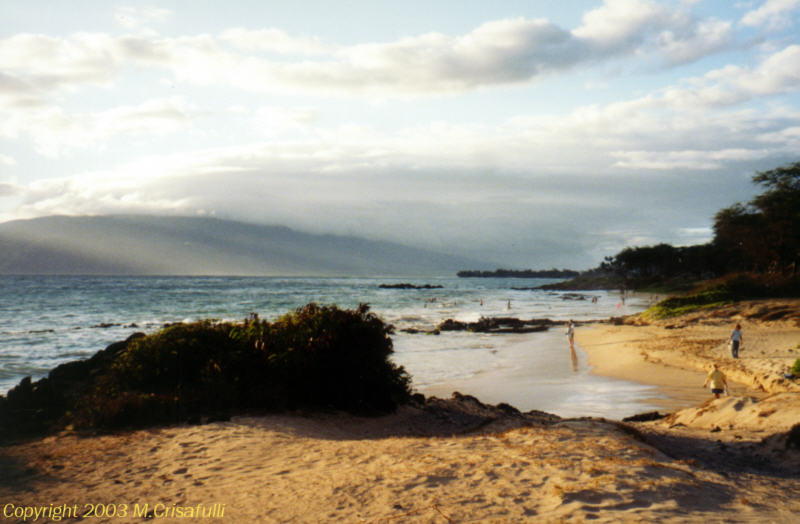 This page and its contents © Copyright 2003 Michael & Karen Crisafulli. All rights reserved.